We designed a tool we use every day.
Designed by working professionals.
SHARP POG® was designed by a professional cabinet and floor installer. Still installing even after thirty-years, Greg created SHARP POG® to extend the useful life of his carbon steel cutting blades. Greg found his oscillating multi-tool was indespensible and his go-to for just about any cut (wood, plastic, or drywall). After using SHARP POG® for years, he noticed reduced project time, increased profitability on jobs, and reduced purchases of expensive carbon steel cutting blades.
How It Works
The highly-innovative SHARP POG® device makes short work of sharpening all those dull, used, carbon steel cutting blades that are routinely thrown out before their time. In the case of high quality plunge/flush type blades, these blades are just too expensive to be discarded after one use.
Buy Securely
Get SHARP POG® for yourself, at the lowest price around. Our secure store is the best place to get the device that will potentially save you thousands of dollars. Lasting years, you can take this on the job site and sharpen again and again…boost productivity and save money every day!
A tool built by tool guys.
Necessity meets practicality.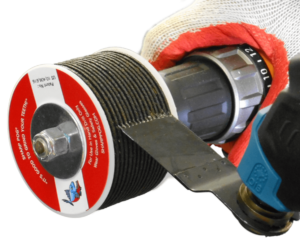 Oscillating multi-tools are one of the most versatile tools on the market today, but with blade speeds of about 20,000 strokes per minute, a stray nail or small mistake can spell the end of an expensive blade. After throwing away nearly-new blades for years, and seeing the potential of giving new life to old, damaged, or worn carbon steel cutting blades, the SHARP POG® was born.
The distinct cylindrical grinding profile of the SHARP POG® creates a quick and reliable sharpening process that can be completed with the blade still attached to the tool, with only the use of the SHARP POG® and a hand drill. The beauty lies in the simplicity of the solution.
Greg and A.J., the founders of SHARP POG®, went to work perfecting the design raved over by professional tradesmen and laypersons alike. The fully-patented design has resulted in an elegantly simple and economical solution to a frustrating a costly problem.