Save money and easily sharpen blades yourself
Dull teeth just won't cut it.
Stop throwing away expensive blades for your oscillating multi-tool when they get dull. Quickly and effectively sharpen your blades in minutes with the SHARP POG® and a hand drill! Made for tradesmen and homeowners alike, SHARP POG®  is a practical and effective tool that saves you a lot of money…and gives your blades back their piranha-like teeth!
How It Works
The highly-innovative SHARP POG® device makes short work of sharpening all those dull, used, carbon steel cutting blades that are routinely thrown out before their time. In the case of high quality plunge/flush type blades, these blades are just too expensive to be discarded after one use.
Buy Securely
Get SHARP POG® for yourself, at the lowest price around. Our secure store is the best place to get the device that will potentially save you thousands of dollars. Lasting years, you can take this on the job site and sharpen again and again…boost productivity and save money every day!
Unbeatable convenience and savings
Get the sharpener that pays for itself in only 3-4 uses…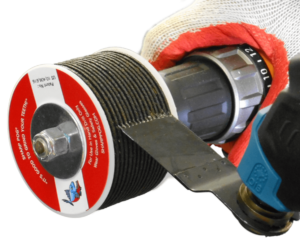 As "tool guys" and experienced contractors, we knew we couldn't be the only ones who hated throwing away expensive blades that, although dull, still had a lot of life left in them. But in order to work and actually be used on the job site, a simple and practical solution was a must. With SHARP POG®'s compact and portable design, and the simple connection to a drill you already have on site, this tool will sharpen blades for years to come.
Regardless of how you use your oscillating multi-tool, or even the materials you work with (wood, plastic, drywall, or really anything), SHARP POG® is a dependable, reliable sharpening solution that is convenient, simple, and most importantly, saves you an incredible amount of money.